Travel and Transportation To SB
Los Angeles International Airport
1 World Way, Los Angeles, CA 90045, USA

Normally cheaper than flying into Santa Barbara airport with more flexible flight times. Travel time will be about 2 hours from LAX TO SB (about 100 miles north). From LAX you can rent a car or catch the Santa Barbara Airbus (Click on Visit Website link). If you do rent a car, I highly recommend taking Highway 1 and driving along the coast as opposed to taking the Highway 101. There is less traffic and the view is much more enjoyable. If you are looking for a place to stop and eat there are plenty of options along this route heading through Santa Monica and Malibu. Neptune's Net is a great place for seafood that we recommend! Mapquest for fastest route if getting to SB is the most important factor.
Santa Barbara Airport
500 James Fowler Rd, Santa Barbara, CA 93117, USA

Flights are generally more expensive with less options, unless you happen to luck out. If you happen to find a reasonable flight this will cut down on travel time as location from this airport to the hotel areas is short (10-15 minutes).
Amtrak Union Station
Los Angeles, CA 90012

If you are travel savvy and trains are your thing, you can take the Amtrak Pacific Surfliner (click Visit Website) from your flight landing in LAX to SB. The only thing is this train leaves from Union Station, which means you have to Uber/Lyft to Union Station to board. Another option is to take the FlyAway Bus from LAX to Union Station. --> https://www.flylax.com/en/flya...
Transportation To Ceremony/Reception
We discourage driving because we want you to have fun, let loose, and relax! For that reason we have secured a shuttle bus for convenience that will be picking guest up for the ceremony and also from the reception to the hotel block (not secured as of yet). We encourage guests to use this shuttle even if you are not staying at the hotel. Uber/Lyft is also readily available if that is more convenient. Street parking will be available at the ceremony/reception site if you do decide to drive. Again, PLEASE CHECK BACK for more information.
Things to Do
The Funk Zone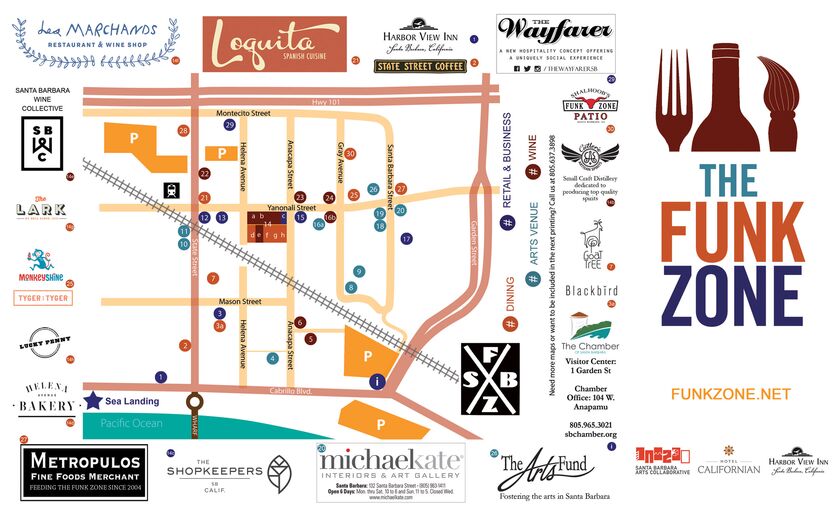 34 Anacapa Street, Santa Barbara, CA, USA

The Funk Zone, on Anacapa street, is a fun area featuring a number of breweries, restaurants, and wineries. The Urban Wine Trail stretches across two districts and is home to 20+ tasting rooms, most of which being located in the Funk Zone. A trendy area that has something to offer during day or night.
The Lark Santa Barbara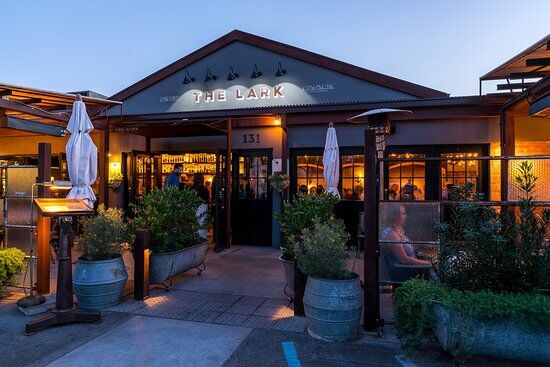 131 Anacapa St, Santa Barbara, CA 93101, USA

Great farm-to-table style food. I recommend making a reservation since this place fills up fast! Walk-ins may be able to find a seat at the bar or at a long communal table.
The Nook Santa Barbara
116 Santa Barbara St, Santa Barbara, CA 93101, USA

Located inside the Lama Dog Tap Room (an excellent beer bar), this is a great place to get burgers, fish tacos, etc. A great place for lunch, dinner, or just a snack. Vegan/vegetarian options as well. Topa Topa is a brewery connected next door to Lama Dog Tap Room. I'm telling you, there is no shortage of places to eat and drink in SB.
Stearns Wharf
217 Stearns Wharf, Santa Barbara, CA 93101, USA

Located on the pier within walking distance from the Funk Zone. Two seafood restaurants, fishing, strolling, or a nice place to catch sunset. Great place for photos (I'm talking to you Instagram lovers).
Brophy Bros.
119 Harbor Way, Santa Barbara, CA 93109, USA

Hands down home to THE BEST clam chowder I have ever eaten. Don't even try to argue with me, you won't change my mind. The soup and salad combo is a nice choice. This is not within walking distance but it is a short Uber ride away, and the food is delicious. Has a great view of the harbor and located near the beach.
Boathouse at Hendry's Beach
2981 Cliff Dr, Santa Barbara, CA 93109, USA

Located on Hendry's Beach near the previously mentioned Brophy Bros., this bar and restaurant has never failed to disappoint. Have some drinks and/ or delicious food and take a stroll down the beach. A nice place to catch sunset.
State Street, Santa Barbara
Part of the main hub of downtown Santa Barbara, this area is home to many shops, restaurants, and interesting things to see. Ryan and I love eating at Arigato Sushi. The Santa Barbara Public Market has some fun places to eat and drink.
Figueroa Mountain Brewing Co.
137 Anacapa St F, Santa Barbara, CA 93101, USA

Located in the Funk Zone, this brewery offers a variety of local beers and has a nice outdoor patio to enjoy the California weather. Whether it was for the brews, the mellow atmosphere, or BOTH, Ryan and I always made a point to stop in when visiting from LA.
The Mission
2201 Laguna Street, Santa Barbara, CA

A beautiful historical site with a lot to see. A great place to take photos and spend the day. From the church, to the cemetery, to the rose garden, the views will not disappoint. Opt to join a guided tour or to walk through t your own pace.
Santa Barbara Botanic Garden
1212 Mission Canyon Rd, Santa Barbara, CA 93105

Santa Barbara Zoo
500 Ninos Dr, Santa Barbara, CA 93103

Ganna Walska Lotusland
695 Ashley Rd, Montecito, CA 93108